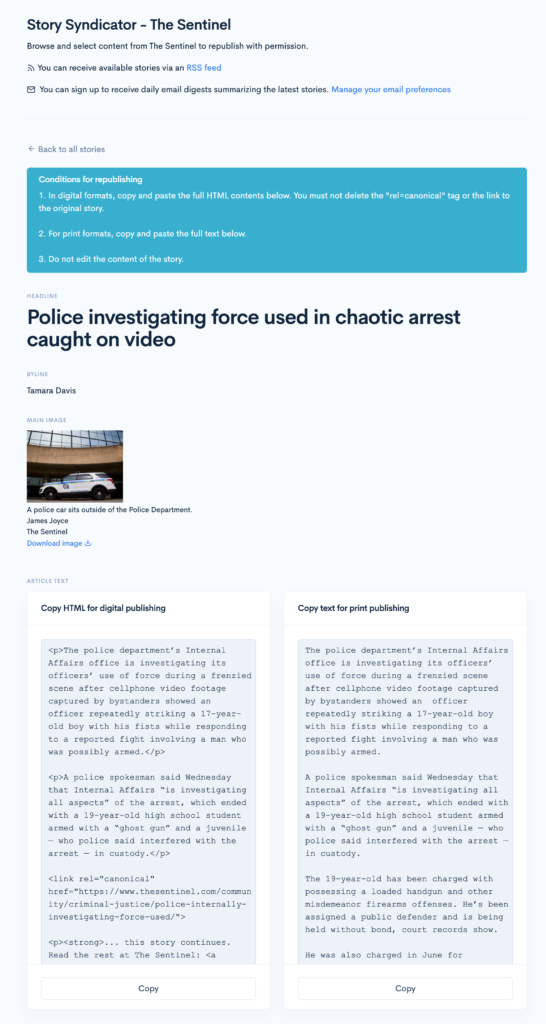 Share with other publishers
Share your stories, keep control
Arcfully's Story Syndicator enables your partner publishers to reproduce some of your content, while giving you full control and a boost to your SEO and site traffic.
Build SEO:

Story Syndicator automatically inserts backlinks and "rel=canonical" tags, so your website gets full SEO credit, no matter where the content appears.

Grow audience:

Story Syndicator automatically inserts attribution and links in republished content, so readers click through to your original story.
Simple: Partner publishers can browse your latest stories and copy the approved content with one click.
Convenient: Partner publishers can receive a daily email digest or an RSS feed of all the stories you make available.

Integrated:

Our direct integration with Arc XP automatically grabs all stories you approve for syndication. No human work necessary.
Customizable: You have full control — which publishers have access, which stories are available for republishing, how many paragraphs, the attribution text, and any other conditions.
Multiple formats: For partner newspapers, we deliver both a digital and print version of your story content.
Get in touch with us for a demo